Coloratura Soprano Petra Valman sings opera roles. For instance does she sing Gretel in Hansel and Gretel by Humperdinck and Poppea in L'incoronazione di Poppea by Monteverdi. In addition to singing Petra Valman is an artistic leader, project manager and creative partner. She is project manager in a number of opera performances.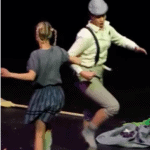 Petra Valman is a frequently employed soprano soloist in churches around in Uppland but also in other parts of Sweden. You can read more about what sacred works she performes live under Sopransolist vid sakrala verk
Valman's background as a Speech- and Language Therapist is useful, above all, when teaching. She is teaching groups and individuals how to use their voices. She is doing classes and lessons in singing and talking.
You can read more about Petra Valman by clicking on the links below
To sum up, Petra Valman sing coloratura opera roles, teaches voice classes and is a project manager.
---